Nickelodeon Presents "The Thundermans"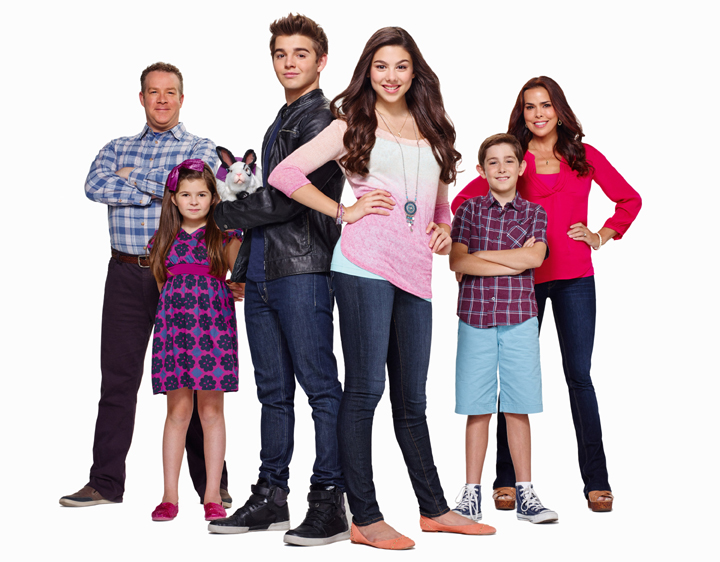 Nickelodeon Brings A Super New Show To Saturday Night! "The Thundermans" Power Up For A Lot of Laughs!
By: Susan J. Yeager
From the outside, the Thundermans look like your typical suburban family... two parents, four kids, just trying to get through school and growing up. However, there is something uniquely special about this crew; they all have super powers!
Dad, Hank, has extraordinary strength and the ability to fly. Mom, Barb, can generate lightening from her hands. Fraternal Teen twins, Phoebe and Max have freeze breath and the ability to move objects via telekinesis. Billy's super power in super speed while youngest sister Nora can shoot laser beams from her eyes!
See a promo for the show here:
No matter how hard they try, "normal" will never apply to the Thundermans and this gets them in some sticky situations. In the first episode, called "Adventures in Supersitting," Hank and Barb try to have a date night, leaving Phoebe and Max to watch their younger siblings. Max, who would prefer to use his powers to make trouble, convinces Phoebe to invite her best friend over, even though that is going against her parent's strict orders. When her friend sees the kids using their super powers, the family must weigh their options of finding a way to keep their secret.
Recently, we chatted with Addison Riecke who plays "Nora" and Diego Velazquez who plays "Billy" on this fun new series. Find out more about these talented performers below.
Meet Diego Velazquez - Billy Thunderman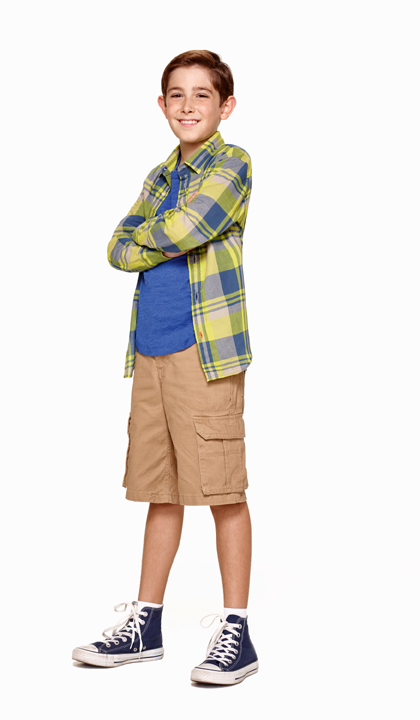 Diego Velazquez is having such a great time playing "Billy" on the new Nickelodeon series "The Thundermans." The young actor, who turns 13 next month, got started in acting in a very big way. "I used to always love costumes, like I was never really into toys or stuff like that," Diego explains. "I was always into costumes. Four years ago there was an open casting for a part in a movie and I ended getting the part, which was very exciting because I didn't expect that I was going to get the part. The audition was in Portland Oregon. It was a very big movie it had Harrison Ford, Brenden Frasier, and Kerri Russell. It was very, very fun for me. It was just great working with them. I was just having a lot of fun with it. After that, I went out for commercials. I didn't want to stop acting."
The movie is called "Extreme Measures," and can be credited for discovering Diego and setting him on the path to a successful career in acting. Soon he would land guest appearances on shows like "Leverage" and "Grimm" before landing a dream role for any young actor.
"It's a family of super heroes who are living in a house together and we are always messing with each other, having fun," Diego says about the "Thundermans." "Sometime we get in some pretty bad situations with each other, like destroying a car. We destroyed a car in one episode. So we're always getting into the weirdest situations."
"Billy is kind of... he's not the smartest Thunderman, he kind of lives on his own planet," he says when asked to describe his character on the show. "He's kind of nerdy but in a good way. He likes comic books and stuff and I really like comic books too. That's kind of how me and Billy are alike. We both like comic books and we both like video games."
Landing the role was not nearly as fast as "Billy's" super speed superpower on this series. Diego had to be patient through a very long process. "I was on vacation, it was a coincidence, my agent said 'Oh there's an audition; you should go out for it.' I really liked the character. I could definitely relate to him. So when I went out to the audition, they actually said no to me. Then they called me back like two months later and said 'We'd actually like him to audition again.' After a couple of more auditions they said, 'Diego got the part!' I was very, very excited when I heard that because it took a while."
Once landing the role, however, he didn't have to wait long to start playing "Billy." "I had to go to work in two days," he remembers. "They said, 'Okay, you've got the part! Two days and you're on set!' After we got picked up and we've been running for a little while, usually I read the script and then I figure out, 'You know what would be funny? If Billy would be good in this part and in this part. I kind of figure out what to do."
While making a television show, there tends to be a lot of down time for actors while the crew gets ready for filming. How does the cast of the "Thudermans" spend their time? "I love to pull pranks on people!" he confesses. "I put a tick costume with a unicorn head in Rosa's dressing room and I wrote a note that said, 'I love you! From: Your Friend!' I kind of like to pull pranks. Addison likes to play with her American Girl Dolls. Jack and Kira like to play the guitar and sing. I'm kind of the prankster of the group."
"My favorite episode so far might be number 4. It's called 'Phoebe vs. Max' and we're actually going to be airing it second, not fourth. Phoebe and Max are having prank war while me and Nora are having trash wars. Whoever knocks over the trash has to take it out. It gets up to ten feet high and then it falls over onto our Dad Chris, who plays Thunder Man. It's really funny."
Even though he is on TV, Diego still has to go to school and get an education. "I go to school in California. I actually go to school and then the school gives me the work to go on set. I'm in sixth grade... middle school. My favorite subjects are probably English and Social Studies."
When he's not working or studying, however, you can probably find him "playing with my dog Dash or reading and watching TV." His favorite shows include "The Walking Dead is one of my favorites. The Nickelodeon shows... all the Nickelodeon shows. I love the Cartoon Network shows. I like almost everything I guess."
In the music category, Diego says, "I like Nirvana. I like Eminem, Red Hot Chili Peppers and Modest Mouse. I really like rock and rap basically."
He's also really into zombies right now so it's no surprise that if he could create a dream movie to star in, "I would like to play in some kind of action zombie movie. That would be really fun!" Diego says excitedly.
It's also not surprising that zombies would show up in his Halloween plans this year. "Me and my friend Mateo, we're going to go trick-or-treating in Toluca Lake. I'm going to be a zombie for the second year in a row. I love zombies! Me and my Mom are going to do my make-up. My friend Ruby, I've done her make-up and my make-up; we've just had a lot of fun doing that."
Diego's having such a great time playing "Billy," and he's excited that now he gets to share the show with the world. "We shot the very first pilot a year ago. Then after we got picked up, we filmed the second pilot eight months ago. It's definitely been a process of a long, long time. Finally, when it aired, I really was happy because all the people on Facebook and Instagram and Twitter are all saying they loved it. It was awesome!"
"I have always wanted to be on Nickelodeon since I was little little," he says of the network that made his dream come true. "I was always like 'Mom! I want to be on that channel! Dad! I want to be on that channel! I know how many people watch Nickelodeon. It's one of the most watched networks so then when you get to be featured on it as like their new show it's really, really awesome!"
Check out Diego and his awesome cast-mates on the "The Thundermans!" Tune in Saturdays at 9 on Nickelodeon.
Follow Diego on Twitter at www.Twitter.com/DiegoVelazquezJ
Meet Addison Riecke - Nora Thunderman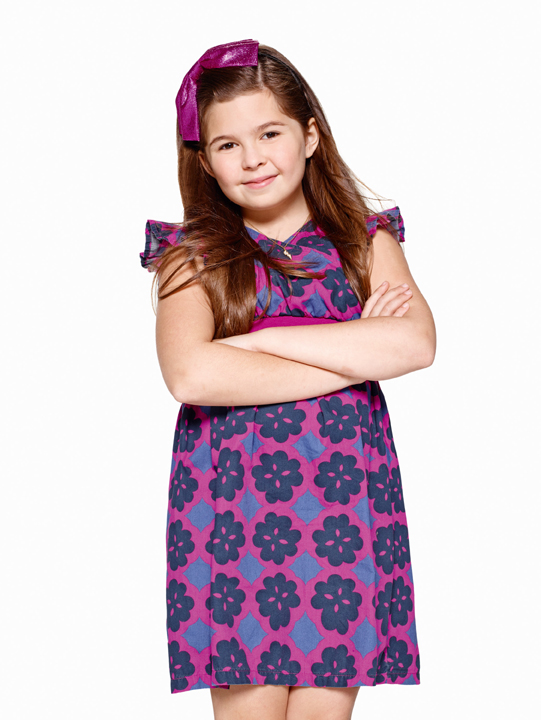 Addison Riecke plays the youngest sibling in the Thunderman family. The young performer decided at age seven that she wanted to give acting a try. Her parents were totally supportive and enrolled her in an acting school. "From there, I went to a convention called 'IPOP,' she recalls. "There we prepared a monologue. That's where I got my manager and agent and then I started going on auditions."
It wasn't long before Addison booked two national commercials, "They were Lunchables and a video game." She also appeared on an episode of "How To Live With Your Parents." Now she's having the time of her life playing "Nora" on Nickelodeon's new series "The Thundermans."
"The show is just your normal family who happen to have awesome super powers. They try to keep it under wraps and have a normal life." "Of her character, Addison says, "She comes across as charming, but once you get to know her you can kind of see that she's sarcastic... kind of dry."
The Louisiana native says she can relate to her television counterpart. "I kind of relate to Nora a little bit. I'm not that dry and sarcastic. I feel like I try to come off as charming but once I really know someone really well, I try to get into that funny mode." And they also both love bows! "We both wear bows," she points out.
The cast of "The Thundermans" has become like a family during filming. "We definitely hang out together," she says of the cast when there is downtime. "At lunch time, sometimes we play instruments together. Sometimes we watch videos on YouTube. We definitely hang out and we definitely talk. Me and Kira talk about girl stuff like clothes."
With the premiere right around the corner, Addison is happy that her friends and family are going to get to finally see the show week after week. "I've been holding myself back, not telling friends about every episode, what they're about and what we did to do them. The CGI effects, the special effects, we still have to keep those a little happy secret."
Speaking of special effects, does having so many per episode make her job harder? "It's actually really fun doing the special effects, especially when Billy does his super speed. The telekinesis is a lot of fun too. And laser eyes are really fun too. When I cook something with my eyes, you get to see the regular version of food and the burnt version of it."
Can she pick a favorite episode? "That's a hard one. I have a few favorites. Our second episode, 'Phoebe vs. Max,' that's a good one. I like the one where Phoebe turned into a clone and Billy and Nora have a talent show. One more called, 'Crime After Crime,' that was a really good one."
Though she is keeping very busy filming a new series, don't forget that Addison is a student too! "School is working out very well with work. My regular teachers and my set teachers work together. My regular teacher sends my work and my set teacher sends it back. When I'm Louisiana, I just hop right back into school. I'm in fourth grade this year. My favorite subject would have to be science. Experiments are a lot of fun and I love learning about Biology!"
When she does have a few minutes for fun, Addison plays with her cats (two stay in Louisiana while Hannah is with her in California). She also loves listening to alternative music and watching television. "I love the 'Haunted Hathaways!' 'Sam and Cat' is a really good show too! I also like a lot of the cartoons on Nick at Nite like 'CatDog' and 'Rugrats.'"
She also makes time to make the most of the holidays like spending time with friends on Halloween. Her plans this year included, "I'm having a little Halloween party with my friends and of course, I'm going trick-or-treating. I'm going as Cat woman. My favorite costume so far was I think the one I had last year, I was a pink witch. It was a lot of fun!"
It's also important to Addison to donate time to charity. "Ten years ago, my mother started this organization called 'Holidays for Kids,' where we would get Christmas gifts for kids that don't get those things. So we would donate gifts. We would go to the stores and get the little girl's dolls and the little boys video games. My mother would always let me wrap the gifts and write the cards to them. That was definitely a lot of fun. We're still doing it. I really get excited to know that I am helping another person my age who doesn't have a lot of things that I have."
Right now, Addison is just enjoying her time as part of the Nickelodeon family. "Never had I ever thought that I would ever be on Nickelodeon! It's definitely a wonderful, wonderful experience. All the people there are really nice! I've definitely made friends with a lot of people!"
Be sure to catch Addison and the rest of the fun cast on the new series "The Thundermans," that premieres on Saturday, November 2, 2013 at 9:00PM!
Follow Addison on Twitter at www.Twitter.com/AddisonRiecke